How to get to Gombe National Park
---
There are 3 options to get to Kigoma: train, plane or bus. You could also rent a car and drive, though I wouldn't want to do the drive myself. My disclaimer here is that I only took the bus, so I cannot paint a picture as to how the train or flight experiences are to and from Kigoma, but I have provided information on the various routes for your reference.
Train:
Trains are available to Kigoma from Dar es Salaam, Tabora and Mwanza. I have heard that it is quite lovely, although time intensive. There are 2 main train lines, but you will need the Central line which links Dar es Salaam to Kigoma, via Tabora. You can also reach Kigoma by train from Mwanza via Tabora. NOTE: Due to the transfer that is required on these journeys, there can be extremely long delays (i.e. > 24 hours).
Plane:
It is possible to fly, but there are limited commercial airlines going in and out of Kigoma, which means big prices! Flights in and out of Kigoma airport are provided by Precision Air, 3-4 times a week, but are costly and somewhat unreliable. There are also private planes that you can hire that service Zanzibar, Serengeti and Kigoma, but again these are quite costly.
Bus:
I apprehensively opted for ground transportation, despite hearing tales of harrowing, dusty bus rides because it is the most economic way to get there.
I took the Saratoga company's "Pride of Kigoma" bus from Mwanza, which departs at 5:30am from the Mwanza main bus station and arrives at approximately 9:00pm at the Bera petrol station in Kigoma. Note the ticket offices are in separate locations (which your taxi or piki driver will be able to take you to, just tell them Saratoga). The cost of a one-way ticket is 31,000 Tsh (15 USD/ 18 CAD).
---
2 ways to go to Gombe National Park
Difference between fly and go by a car is 100 km.
Gombe National Park FAQ's
The park major attraction is obviously the Chimpanzees that live protected within its boundaries. The scenery of Gombe is stunning with most of the 16 major valleys containing swift steams, which flow all year. In this park you can meet the stars of the world famous chimpanzee community.
Gombe's chimps are the main attraction, but the park is also home to a troop of habituated olive baboon that can usually be found on the lakeshore. There are several other monkey species present, including red colobus monkey, which are sometimes hunted by the chimps.
Gombe National Park enjoys a strategic location, 16 klicks( kilos) north of Kigoma region and along the hills of the eastern shore of Lake Tanganyika, west of Tanzania. 
Kigoma is accessible from Dar and Arusha by scheduled flights; to Dar and Mbeya by rough dirty roads; to Dar and Mwanza by a slow rail service; and to Mpulungu in Zambia by a weekly ferry.
It three hours by local lake taxi from Kigoma to reach Gomber. Motorboats are also an option. They are chartered and take less than an hour. 
| | |
| --- | --- |
| Distance: 1249KM | Time:18 HS |
Gombe National Park
---
Gombe Stream is one of the best places in Africa to track chimpanzees. First researched in the 60's by Jane Goodall, the primates are remarkably habituated. The project now ranks as the world's longest running study of any wild animal population. The experience is one that you are unlikely to forget.
---
Serengeti Trips Tanzania
---
Find all the transport options for your trip from Arusha to Ngorongoro Crater right here. We displays up to date schedules, route maps, journey times and estimated fares from relevant transport operators, ensuring you can make an informed decision about which option will suit you best.
Lodges and Tented Camps in Gombe National Park
1- Chimpanzee Wildviewing: The highlight of the park is the chimpanzee families that reside there protected in the park's boundaries. 
2- Guided Walks: Visitors can easily have guided wals where they can dig deep into the forest, observe and get closer to extraordinary primates for an entire morning. It is an unforgettable experience. 
3- Wildlife Viewing: There are many other species besides chimpanzee to enjoy while being in Gombe such as Vervet and colobus monkeys, baboons, forest pigs and small antelopes, besides various tropical birdlife.
As the saying goes do not judge a book by its cover and that saying surely applies to Gombe park. The park enjoys a rather eccentric but substantial role in housing a large variety of primates aside from chimpanzees such as the olive baboons, red-tailed, red colobus monkeys, and many more primate iterations. 
Not only primates riddle the land of Gombe park but over 200 variations of bird and pushpins species, snakes and the occasional hip and leopard also call the park home.
Gombe Stream National Park is visitable on most of the year. However, the wet season, from November to April, is a preferable time to be at the park. The access is difficult and trekking is slippery. Besides, the lodges find March and April a good time fot maintenance. It is hard to find accommodation during these months. 
During the sry season, from June to September, there is very little rain or no rain at all. It is when the weather is humid and warm, with plenty of sunshine.
Chimps are observable and easy to find on the lower sloped during the dry period. Sometimes, they are even close to the camps or roaming along the sandy shores. 
Bird watching time is between December to March. Hundreds of resident and migratory species such as pelicans, storks, ospreys, vultures, rollers, barbets, cuckoos, hawks, eagles, owls, cormorants and many more can be witnessed in the park.
An excited whoop erupts from deep in the forest, boosted immediately by a dozen other voices, rising in volume and tempo and pitch to a frenzied shrieking crescendo. It is the famous 'panthoot' call: a bonding ritual that allows the participants to identify each other through their individual vocal stylizations. To the human listener, walking through the ancient forests of Gombe Stream, this spine-chilling outburst is also an indicator of imminent visual contact with man's closest genetic relative: the chimpanzee
There are truly wild places in Tanzania, Gombe National Park is one of them. The nature value of Gombe was noticed in 1943 when it was designated as a game reserve. Gombe gained its popularity after the pioneering research activities of Dr. Jane Goodall in 1960 which is believed to be the longest-running study of primates in the world.
Conservation status was upgraded to that of a National Park in 1968 and opened for tourism in 1978 after chimpanzees habituated to human visitors. It is located 16 km north of Kigoma town on the shores of the world's second deepest Lake Tanganyika in western Tanzania with an area of 56 square kilometers.
Tracking the chimps is a fascinating experience. When Jane Goodall arrived in 1960, Tanzania's Gombe Stream National Park was just one piece of forest amidst a vast ocean of trees. Today, it's a small green island engulfed by farms, fields, and villages. Despite the change, this tiny park (a mere 30 square miles) is still one of the best places in the world to see wild chimpanzees in their natural habitat. During her research time at Gombe, Goodall made many new discoveries about chimpanzees, detailing their social hierarchy, their calls and previously unsuspected behavior.
Less than 150 chimpanzees live in the Park. The exact number of chimpanzees is unclear since no census has been conducted. Ongoing studies and analyses examine mother-infant relations, vocal communications, and botanical collections. Fifi, the last surviving member of the original community, and its matriarch, was only three years old when Jane Goodall first arrived in Gombe, and she is still regularly seen by visitors. There is ongoing field research and Gombe Stream Research Center (GSRC) also takes a role in conservation education. Both research and education play important roles in preserving free-living chimpanzees and their habitats.
Before Dr. Goodall could watch the Gombe chimpanzees, much time was spent getting them used to human observers. From 1962-1965, she used random provisioning to get the chimps used to the presence of humans. These observations have found distinct patterns of behavior in the different communities of chimpanzees. The chimpanzees of Gombe have three unique patterns and are also known to share 13 behavioral patterns with other chimpanzees. Some shared patterns are: "termite-fish using non-leaf materials," "lever open" (stick used to enlarge an entrance), "self-tickle" (tickle self, using objects), and "Rain dance" (slow display at the start of rain). Some unique patterns are: "leaf squash" (squash bug on leaf) and "ant-dip-wipe" (manually wipe ants off wand).
The most visible of Gombe's other mammals are also primates. A troop of beachcomber olive baboons, understudy since the 1960s, is exceptionally habituated, while red-tailed and red colobus monkeys – the latter regularly hunted by chimps – stick to the forest canopy. The park's 200-odd bird species range from the iconic fish eagle to the jewel-like
Peter's twin spots hop tamely around the visitors' center. After dusk, a dazzling night sky is complemented by the lanterns of hundreds of small wooden boats, bobbing on the lake like a sprawling city.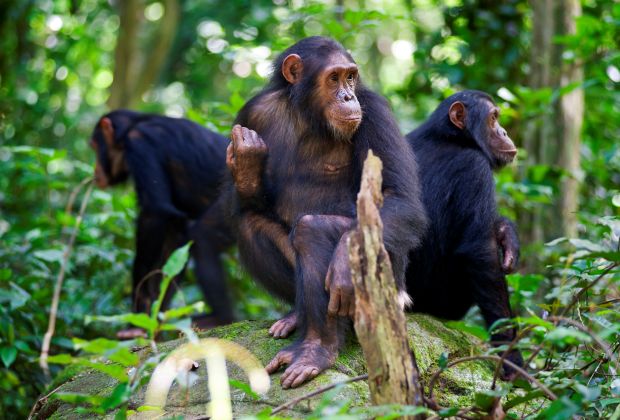 Gombe National Park was established in 1968. It is located on the eastern shore of Lake Tanganyika, 15 km north of the town of Kigoma, and is accessible only by boat. The landscape of the park is made up of steep valleys, streams, and rivers. The vegetation changes from tropical rainforests and alpine bamboo to grasslands – similar to that of neighboring Mahale Mountains National Park.
The park is rich in both human and natural history. The village of Ujiji is where historians think British researcher H.M. Stanley said the famous words "Dr. Livingstone, I presume?" in 1871 when he encountered fellow adventurer David Livingstone, who had been thought to have died. Though he was seriously ill, Livingstone convinced Stanley to join him on a search to find the source of the Nile — a quest that took them through the Gombe Valley.
The park's narrow, steep valleys are carpeted by evergreen rainforests that give way to grass-topped ridges and alpine bamboo stands, are home to two kinds of acrobatic colobus monkeys, along with giant kingfishers, crowned eagles, bushpigs, trumpeter hornbills, and more than 50 other wild species. Snorkelers may enjoy the adjoining lake, which holds almost 100 kinds of brightly-colored cichlid fish.
The main attraction of Gombe Stream is clearly the families of chimpanzees that live protected within the park's boundaries. Guided walks that take visitors deep into the forest to observe and sit with the extraordinary primates for an entire morning are available — one that is the highlight of many visitors' trips to Africa and an incredible experience. Besides chimpanzees, other primates living within Gombe Stream include beachcomber olive baboons, red-tailed monkeys, blue monkeys, red colobus, and vervet monkeys. Blue monkeys and red-tailed monkeys have also been known to hybridize in the area. There are occasional hippopotami, leopards, and 11 species of snakes. The park is also home to bush pigs and over 200 bird species.
However, Lake Tanganyika is also a wonderful place to go snorkeling and swimming, fishing, sailing, or just relax on the white sand. Hippos and crocodiles tend to keep their distance from Gombe which means visitors can take a dip in the lake without having to worry about sharing the water with wild animals.
While at Gombe, a visit to the Goodall Foundation's old feeding station should be on the list of things to do and the nearby village of Ujiji is where Henry Stanley met Dr. Livingstone in 1871.