How to get to Arusha City / Town
---
Arusha City is only a 1hour drive away from the town of Arusha, the starting point of any safari in northern Tanzania.
There are several ways to get to Arusha. The easiest is to get a direct flight to Kilimanjaro International Airport (JRO), which is situated about 46km/29mi from Arusha. Alternatively, you can fly to Julius Nyerere International Airport (DAR), near Dar es Salaam and get a connecting domestic flight to Arusha Airport (ARK) or Kilimanjaro International Airport (JRO).
Kilimanjaro National Airport and Arusha Municpal Airport are the two airports that service the city of Arusha, with KNA being the only airport that brings in international travelers. You can travel from Arusha to Zanzibar, i.e., from the Bush to the Beach, it is a very popular route and many people travel on this route to spend some time in the white sandy beaches of Zanzibar. 
Another route is Arusha to Dar es Salaam and onward to Zanzibar or if you are coming to Arusha you can take flights from Zanzibar to Dar es Salaam and onward to Arusha. AMA deals specifically in domestic flights.
Arusha is a fascinating place that leads onto great opportunities for exploration and adventure. That said, it is also a city that's alive with a distinct and beautiful culture. Anybody who values history and a deeper understanding of other cultures would do well to spend a day within the city before moving on.
---
4 ways to go to Arusha National Park
Difference between fly and go by a car is.
| | |
| --- | --- |
| Distance: 46.9KM | Time: 1.5HR |
Arusha Region in Tanzania
---
Arusha is the nearest major city to iconic parks of Northern Tanzania like Serengeti, Ngorongoro, Tarangire, Manyara & more. So most Tanzania safari tours start from Arusha and the majority of the tour operators and guides are also located in Arusha. Before you start your Tanzania safari, we recommend to arrive in Arusha a day in advance and rest in the city.
---
Serengeti Trips Tanzania
---
Find all the transport options for your trip from Arusha to Ngorongoro Crater right here. We displays up to date schedules, route maps, journey times and estimated fares from relevant transport operators, ensuring you can make an informed decision about which option will suit you best.
From Arusha to Other areas
There is more to Arusha than initially meets the eye. With impressive museums, cultural heritage programmes, crafts, and curio markets galore, there is plenty to explore before you start your safari.
The city is multinational, with Iraqw, Hadzabe, Maasai, South Asian, and European residents.
The streets are bustling, with Maasai women sat on the sidewalks selling their beadwork, Maasai men wandering through town in their traditional red swathes, enterprising businessman trying to sell batiks, and tour guides offering various exciting 4WD adventures.
Despite this intensity, the city has a warm, welcoming atmosphere. Matching the ambiance of the city, the architecture and infrastructure is chaotic, with hectic traffic and old colonial buildings mixed with modern conveniences.
It is possible to rent a car in Arusha but parking costs $0.50 per day throughout the city. It is far more common to hire a driver, and this is particularly useful for daytrips to Arusha National Park. If you are renting a vehicle, make sure that there is no charge for 'extra kilometres', as this can become expensive.
Dala dalas (small minibuses) are common throughout Tanzania and these only depart when they are full. They cost 400 TSH/person and they operate along the major roads throughout the day. You will find a large station on Stadium Street.
You can also take a bajaji (tuk-tuk) for a one-dollar ride to the city centre. None of these options are particularly comfortable or safe, but they do offer an authentic Tanzanian experience.
Taxis are available and they can usually be found parked in front of hotels. A ride across town should not cost more than $2.50.
Due to the absence of predatory animals, such as lions, Arusha National Park lends itself perfectly for an exciting walking safari with a ranger.
Walking freely alongside the wildlife of Tanzania offers a truly unique experience. Here you´ll be walking at the foot of Mt. Meru, surrounded by green forests, lakes, waterfalls and a huge population of giraffes. A walking safari offers an amazing chance to be up-close with wildlife. The Colobus monkey is one of the highlights you can spot in Arusha NP and can often be found swinging from the trees.
There are some excellent authentic street-food options in Arusha. At Discovery Restaurant, you can sit beside Maasai men and enjoy a Myama choma (roasted meat and maize), chapati, pilau, or biryani.
Alternatively, try out Khan's BBQ on Mosque Street, which serves great chicken dishes, Indian style chutneys, naans, and salads.
More upmarket options can be found in the Eastern side of town. Some of the best dining options are found outside of the city. The Themi Living Gardens is a leafy spot where you can eat at the eco-restaurant, Eat Wild. The Mulberry is another outer-city oasis where you can sit back and enjoy cocktails as you watch the sunset. For travellers who like to party, this is an excellent spot for pre-drinks.
The city has a lively nightlife, with several bars and nightclubs (we recommend Via Via) and a growing live music scene. There are weekly acts at the Mount Meru Game Lodge, Blue Heron, and the Fig and Olive.
In the city
There are several budget options in Arusha, including The African Tulip and the Impala Hotel.
The Impala Hotel: A large hotel with a pool and restaurant, and it is a great option if you are looking for a place to stay after an international flight or the night before a safari.
The African Tulip: A quaint boutique hotel which offers an airport shuttle. Most of the upmarket hotels can be found in the eastern area of Arusha. The Gran Melia Arusha offers fantastic views of Mt Meru, a well-stocked bar, a spa, and a pool.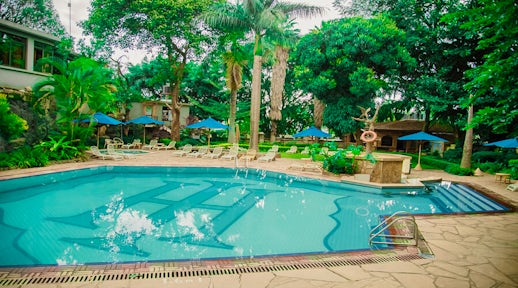 In the suburbs
Some of the best accommodation options in Arusha lie outside of the city. The less expensive options include Onsea House, Rivertrees, and Arumeru River Lodge.
Onsea House: A charming boutique guesthouse that was originally a farmhouse. It has two swimming pools, a sauna, a steam room, and a jacuzzi, and its gardens are tranquil. The guesthouse also has a restaurant which serves delicious food.
The guesthouse is only an hour away from the airport, making it an excellent place to relax before or after a safari. Onsea House offers 2 double suites and a family suite that overlooks the Meru Valley. The adjacent self-contained cottage is perfect for families.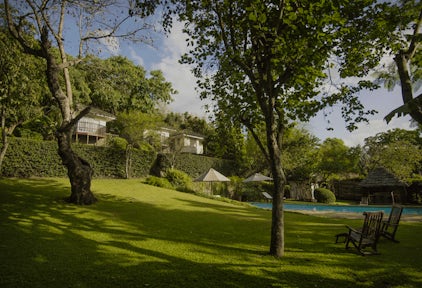 Arumeru River Lodge: A peaceful lodge which offers great access to Kilimanjaro International Airport. It has vast gardens which are home to dik-diks, monkeys and countless bird species. On a clear day, the lodge has exceptional views of Mt Meru and Mt Kilimanjaro. The lodge organises horseback safaris and it is tastefully furnished with traditional dhow furniture.
Rivertrees Lodge: Located on an old coffee farm and with views of Mt Meru and Mt Kilimanjaro, the lodge is an excellent base for trekking. The delicious food matches the high quality of the coffee, and its oven-fired pizza pit is popular with its guests.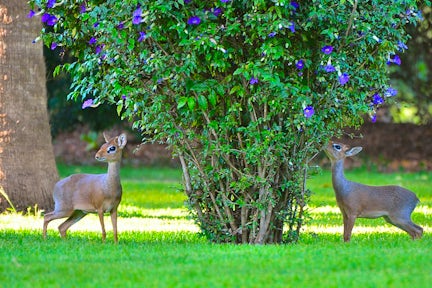 Arusha Coffee Lodge: Just a 25-minute drive from Arusha, this old plantation brims with luxury. The exquisitely decorated rooms are spread across the grounds and each room has its own indoor fireplace. Given that the lodge is a former coffee plantation, it offers tours of the old plantation house and coffee-making process. The theme of coffee runs throughout the hotel – in the bar, restaurant, gardens, and even the spa.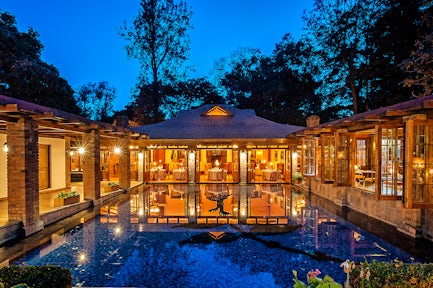 Arusha offers visitors a wide array of places to go and things to do. There are many coffee shops and restaurants, and the town has lively nightlife. If you want to experience a real, bustling, busy African town, stay in Arusha for a day or two.
The Clock Tower, situated slap-bang in the centre of town, is a great meeting point for both locals and tourists. Urban legend has it that this is the middle-point between Cape Town and Cairo. It's completely untrue, but a great story nonetheless.
Central and Maasai Markets – chaotic and vibrant markets that sell everything from meat and fish to fabrics and electronics. Maasai Markets have a wide array of curios and African art. They're crowded and busy but they're a great way to experience real Africa. Beware of pickpockets and be prepared to haggle!
The Cultural Heritage Centre includes a museum, restaurant, spice centre, shops, and a garden scattered with incredible sculptures. The Makonde Museum filled with masterfully carved masks is a must-see.
At the Tanzanite Experience, learn about the history of tanzanite, and how these gorgeous gems are mined. Don't forget to buy one to take home.
The Boma Museum, originally a fort built by the Germans in the early 1900s, chronicles the colonial history of the town and the tribal history of the area. It also houses the Natural History Museum, with fascinating info on the archaeological and paleoanthropological sites in the area and wildlife.
Shanga, out on the Dodoma Road, is a fabulous centre incorporating a workshop for disabled artists who make beautiful glasswork, beadwork, jewellery and clothes, boutiques and an open-air restaurant.
Meserani Snake Park, a little further out of Arusha, allows you to see a wide range of snakes, learn about them, and even hold some! There's also a small Maasai Museum and camel rides there.